The Science of Spying was an issue-based exhibition for 8-12 year olds designed with an emphasis on social and interactive experiences. It opened at the Science Museum in 2007, where it attracted over 300,000 visitors, and then went on an international tour. It hit number 1 critic's choice in Time Out ("It's hard to imagine a 10 year old that won't love it") and was reviewed by former director-general of the MI5, Dame Stella Rimington, for The Times, Unlock the secrets of the spying game:
The Science of Spying exhibition is very well conceived and researched. While offering a fun and exciting experience, it quite rightly avoids the James Bond approach. More than that, though, it will give the reflective 12-year-old some important issues to think about. When is surveillance justified? Who should be using all the gadgetry that science has provided, and against whom? And with what checks and balances?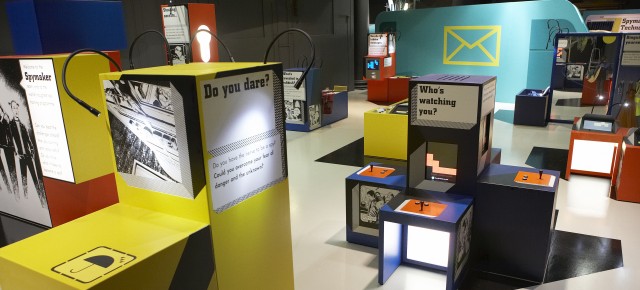 The serious content messages of the exhibition were about both spying and surveillance but it was presented as a dystopian spy roleplay where children were trained and then sent undercover in a corporation that produced ethically-questionable surveillance technologies.
To infiltrate the corporation, children needed to pass a brain or body scanner. To exit, they had to evade a human gait recognition system.
In addition to the 20-plus interactive exhibits there was a 'design fiction' display to provoke children to think about the social, cultural and political impact of the technology of spying on everyday life. We assembled a group of artists to design speculative objects, such as Dunne & Raby's dog wearing a surveillance muzzle:

And Onkar Kular's surveillance-enabled toys for children, Hari and Parker:

Onkar Singh Kular's Hari and Parker toys were subsequently featured in MoMA's Talk to Me: Design and the Communication between People and Objects.
The Science of Spying credits
Researched, curated and produced by The Science of… at the Science Museum
Exhibition Design: Jump Studios (Architecture & Design) and Multistorey (Art Direction & Graphic Design)
Interactives, AV and Software: AllofUs, Centre Screen Productions, Codsteaks, Kiss the Frog, Luckybite, Paragon, Pickledonion, Science Projects, Spiral Productions, Sysco
Models: The Glue Factory
Text: Chas Walton
Comic Illustrations: Laurence Campbell and Dylan Teague
Fit Out Contractor: Beck Interiors
Product Design: Auger-Loizeau, Dunne & Raby, El Ultimo Grito, Noam Toran, Onkar Singh Kular and Troika
My role? As the project manager, I led the conception, development and delivery of the exhibition.